Equipment is not the only financial consideration involved in taking up the game. You're going to need someone to teach you how to use those expensive clubs you just bought, and you're going to need a place to practice and a place to play.
"Ideally, women should take about six half-hour lessons before they actually go out and play a golf course," Eller recommends. "Of course, the number of lessons needed will depend on how quickly the individual progresses. An athletic woman may need fewer."
The average fee for a half-hour private lesson from a golf professional is about $20. Be assured it is money well spent. Free advice from buddies, boyfriends, and husbands may lead to personal havoc (and possible divorce), but even worse, it may cause you to pick up bad habits in your golf swing that will be hard to change.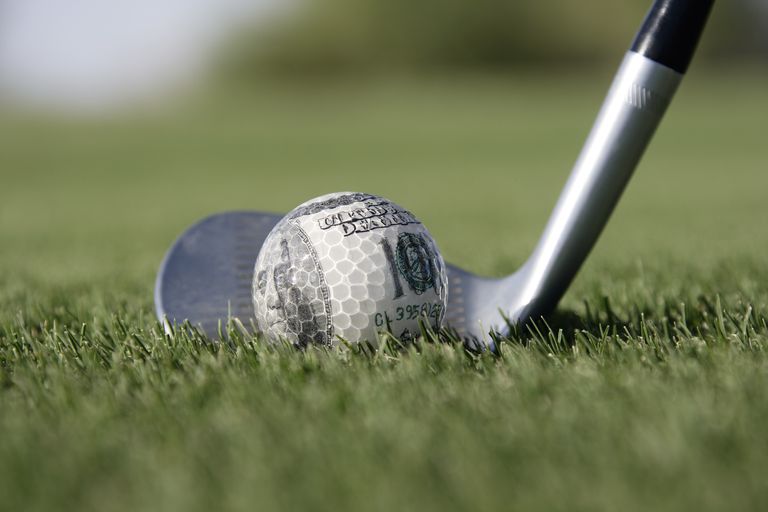 There are cheaper alternatives to private lessons. Many pros conduct group lessons at substantial savings. You may want to contact your local parks department to see if they offer better rates on lessons at municipal courses. If you live in a college town, a university athletics department could lead you to qualified golf teachers that may give lessons as a side income.
While lessons are probably your best bet, you can improve your game on your own, right in front of the television. Nearly every pro on tour today has an instruction video on the market. You can find a video that addresses every aspect of the game, from mental strategy to proper putting techniques. For the beginner, videos on rules of the game and proper golf etiquette can be especially helpful.
A trip to your local video rental outlet can yield a $2 lesson or most can be purchased at retail golf outlets for anywhere from $20 to $40 and up for a video series. Superstar Nancy Lopez's Golf Made Easy is currently on the list of top 15 golf videos. The complete primer retails for $39.95.
But some of the best things in life are free. A lot can be learned from watching the pros on TV, if you know what to look for. Pay attention to how they set up to the ball and where the ball is in relation to their stance. When the camera zooms in on a difficult lie, notice how the pros will open the clubface, just like your club pro has been telling you to do. Also, good commentators can take you inside a player's head, sizing up the situation she is facing and telling you which club she is selecting and why.
"I think the biggest thing an amateur can learn from watching golf on television, and particularly the LPGA, is tempo," comments LPGA standout Sherri Turner. "A lot of amateurs tend to swing too hard and if you watch the women on TV, you can see that we don't try to hit the ball as hard as possible, but with a definite rhythm and tempo."
While tour teammate Inkster agrees, she points out that amateurs should keep one thing in mind when watching the pros on the tube. "I think it's important to realize that while we may make it look easy, we don't just go out there and hit it like that day after day because of some automatic, inborn talent. It's the result of a lot of hours of practice. I think the biggest problem with a lot of amateurs is that they don't practice enough. It takes hard work!"
PRACTICE MAKES PAR-FECT
Golf does require practice if you really want to achieve a certain level of ability. In fact, most beginning golfers swear the sport demands more practice than any other they've participated in. In any case, you'll save yourself a lot of frustration if you put in some practice time prior to your first tee time.
While you can refine your swing technique in front of the bathroom mirror or do some chipping in your own backyard, the best place for a quality practice session is a driving range. Most golf courses have a designated range area, but some of the newer courses, especially those designed around housing developments, lack the space necessary for a good practice range. As a result, stand-alone driving range facilities are becoming increasingly popular.
These facilities usually simulate a golf course's appearance, with fairway-like turf and target greens marked with flags. Many have large practice putting greens as well as sand traps for practicing bunker shots, and are lighted for nighttime practice convenience.
Driving ranges offer the beginning golfer a pressure-free atmosphere to learn the game while providing the seasoned golfer an excellent place to practice. A bucket of balls can be purchased for about $2 to $4, depending on the number of balls in the bucket. Driving ranges also come in handy when you don't have time to get in a round, or even worse, when you can't secure a tee time–a problem that is occurring more frequently as a result of golf's recent surge in popularity.
Of course, if you can afford the luxury of a country club membership, which can run you anywhere from $2,000 to join, plus $100 or so a month in dues, to upward of $20,000 a year at the posh places, securing a tee time shouldn't be much of a problem. However, if a country club membership is out of the question, your best alternative may be one of the many new "premier public" courses springing up all over the country.
The premier public course is characterized by an impressive layout that rivals that of the best private clubs, with the philosophy of appealing to golfers who fall between the country club set and local municipal-course golfers. These courses charge a higher greens fee than a municipal course, averaging between $15 to $25 for an 18-hole round, but in most cases, it's well worth it.
Municipal courses, usually run by the city's parks and recreation department, typically average about $5 to $10 a round. A common problem is overcrowding, and you may have to wait up to an hour or more before teeing off, since most don't take tee times and are run on a first-come, first-served basis. Then again, the wait may not be so bad if you use your time wisely–like taking the time to properly warm up before you play.