There's a good chance that if you've never played golf, you will soon.
The royal and ancient game is expected to pick up nearly 10 million new players by the year 2,000 and, as with any population explosion, women are at the heart of it all. Women accounted for 41 percent of all new golfers in 1987, a figure that has nearly doubled in the last four years.
What is so attractive about smacking smacking a funny-looking white ball over miles and miles of terrain in attempt to knock it into 18 tiny holes?
"I've fallen in love with the game," confesses Yvonne Turner, a 48-year-old insurance planner who recently switched over from tennis to golf. "I had reached my goals in tennis, and at my age, I wasn't going to accomplish much more," she explains. "I was looking for a new challenge and, boy, did I find it!"
Turner was an accomplished amateur tennis player, winning a national title at the 1982 Family Equitable Tennis Challenge with her son Mark in the mother-son doubles division. She turned to tennis after trying her hand at archery, a sport that quickly lost its challenge after she won a state title in just a few years.
"Of the three sports I've competed in, golf is definitely the most difficult and that's probably why I like it the most," Turner says. "I also love to compete and I love being outside."
Professional golfer Juli Inkster loves the competitive nature of the game as well. "You don't have to be a professional golfer to enjoy golf as a competitive sport," says Inkster, who captured three consecutive US amateur titles before joining the Ladies Professional Golf Association (LPGA). "You don't have to have a partner to play, either. You can play on your own and compete against the golf course or just enjoy the challenge of playing to improve your handicap."
LPGA Hall-of-Famer Kathy Whitworth adds, "I think one of the reasons golf is so popular with women is because it's a lifetime sport." The 50-year-old tour veteran has spent the better part of her years on the golf course, collecting more tournament titles (88) than any other professional golfer, male or female.
"Golf is a good social game," says Whitworth. "Women can enjoy it with their husbands. But I really think more women are playing golf now because there are more women in the work force and they're realizing that the golf course can be a good place to do business. The men have known that for years."
Sandra Sikes, a 28-year-old financial accountant for Ingersoll Rand Corporation, picked up the game last year. "All of my friends were getting into golf," Sikes says. "It was kind of the thing to do."
This past November, the National Golf Foundation organized Golf Summit '88, a meeting of the minds that brought together key members of the golf industry to discuss how to plan for and encourage growth of the game. "The Summit recognized that women will continue to play a big role in golf's future," remarks Whitworth who, as president of the LPGA, was in attendance.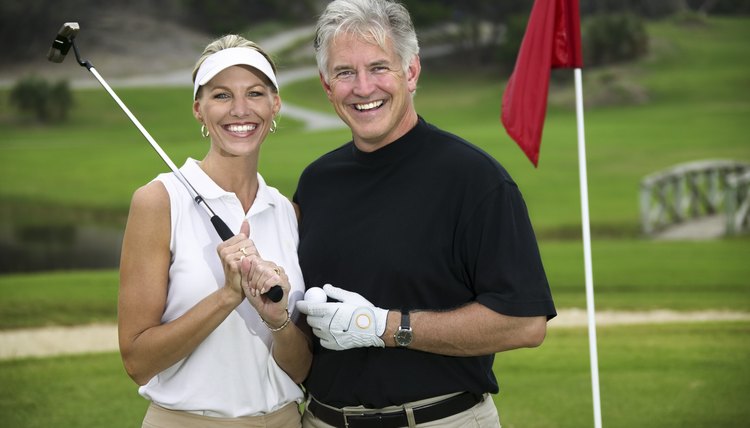 "The LPGA can help get women involved in the game by continuing to be visible and by supporting junior programs."
While junior programs are an excellent introduction to the sport, it's never too late to pick up "the game of a lifetime." So if you're in the market for a new fitness challenge or just want to impress a client and get that big contract, give golf a try. Chances are, you'll be hooked.
The first thing you'll need is a set of clubs or "sticks," as they are fondly referred to. With the dramatic increase in female participation, manufacturers have been quick to design clubs especially for women. In fact, over 50 companies offer some style of women's clubs, and with component clubs gaining in popularity, practically anybody with a garage and tool bench can put together a set of sticks to meet your specifications. So where should go? What should you look for?
The best person to go to is a club professional. The club pro can advise you on equipment features that can help your game and is trained to fit you to the right set of sticks.
"It's important that women don't get a club that's too heavy or too long," notes PGA professional Mike Eller, who oversees several pro shops. "If women don't have the right clubs, they're not going to enjoy the game as much as they can if they have equipment that can improve their play."
Gone are the days when women played with a cut-down set of men's clubs, and with good reason. Men's clubs are primarily designed for distance, and will therefore have a lower loft angle in the clubhead. Women need a clubhead designed to help them with trajectory, or getting the ball in the air, and therefore need a greater loft.
"I suggest women use cast irons with a low center of gravity, simply because they allow women to get the ball airborne," Eller advises. "I also recommend the ladies go for metal woods, without a doubt. They are perimeter-weighted (for a low center of gravity) and have a wider sweet spot. Women are going to hit them better than the traditional wood clubs."
Eller, who serves as director of golf for two popular public courses in Tennessee–the Hermitage in Nashville, home of the LPGA Sara Lee Classic, and Stonebridge, a new public facility in Memphis–says his top-selling women's club is Hillerich and Bradsby's Grand Slam. "The Grand Slam has the features that can help a woman's game," Eller states. "We retail the complete set, three woods and seven irons, for about $300."
Golf equipment is definitely an investment, and with so many styles of clubs to choose from, it's important to shop around. One convenient way to do that is through mail order. Judy Jongeling is an equipment specialist for Austad's, the L.L. Beans of golf, if you will. It is the largest mail-order distributor of golf equipment in the country, mailing more than 20 million catalogs a year. Jongeling mans Austad's 24-hour customer-service line, answering more than 80 calls per day from golfers seeking equipment advice.
"When women call me about equipment, I try to steer them to the cavity-back irons," Jongeling says. "They're designed with a wider sole that helps women pick the ball up easier. Also, the perimeter wighting gives the women more accuracy because they're designed to keep the ball on line if it's hit outside the club's sweet spot.
"When it comes to woods, I tell women to consider metal woods simply for the distance and accuracy advantages they provide," Jongeling says. Austad's carries six brand names of clubs, including its own Senator brand. "Our biggest-selling women's set is probably our Lady Senator clubs," Jongeling noted. "Eight iron sell for $200 and three metal woods retail for about $130."
If money is not a big consideration in choosing your sticks, you may want to look into graphite-shafted clubs. While they are more expensive, priced usually five to six times higher than steel-shafted clubs, they do offer a distinct advantage to the woman golfer.
"I think any golfer, man or woman, can profit from graphite shafts," comments Bob Chiu, vice president of Mizuno Golf Company, a leading club manufacturer. "But for women, graphite shafts are an added bonus. More distance is the first thing people associate with graphite shafts, but the lighter weight of a graphite shaft can also cut down on fatigue late in a round, and the vibration-dampening characteristics reduce the risk of tendinitis and other muscle problems."
Eller agrees that graphite shafts are beneficial to a woman's game. "Graphite helps with the total weight of the club," Eller says. "Because the club is lighter and softer, a woman can generate a lot of clubhead speed in her swing and that's going to give her better trajectory and more distance."
Professional golfer Ayako Okamoto, who represents Mizuno, used graphite shafts to capture LPGA Player of the Year honors in 1987, claiming four tournament titles and over $466,000 in prize money. However, LPGA pro Sherri Turner, the leading money-winner in 1988, does not carry graphite clubs in her bag. "Although I don't use graphite clubs, a lot of girls on the tour do," Turner says. "The primary advantage of graphite is more distance and that's one part of my game I'm not too concerned with. But for the woman amateur, graphite can be a big help."
Mizuno's top selling women's club is the Miz model. Chiu says the complete set–eight irons and three woods retails for around $540 for the steel-shafted clubs, while the graphite Miz set sells for close to $900.
Regardless of whether you select graphite or steel, metal woods or traditional woods, when it comes right down to it, club selection is a matter of personal preference. Choose the club that feels best to you and will give you confidence when you stand up on that first tee. The best way to do that is to try before you buy. Most pro shops offer demonstrator clubs you can take out to the range with a bucket of balls. A lot of sporting goods stores have hitting cages or nets for you to test the feel of the clubs you're considering and Austad's allows you to return any merchandise after a month's trial period.
While the choices in club selection may seem endless, choosing the right golf ball is quite a bit easier. Although differences in golf ball construction do exist, all balls must conform to basic standards set by the United States Golf Association. So although you may hear about two-piece balls versus three-piece construction, or hard Surlyn covers versus softer Balata-covered balls, the truth of the matter is, unless you're a pretty low handicapper or a pro, you probably won't notice a big difference in how certain golf balls play.
But the experts do agree that for women, choosing a ball with a lower compression (the pressure at which the ball is wound) is best. "Since most of the women that call me are middle-to-high handicappers, I recommend an 80-compression ball," says Jongeling. "The better women players will hit a 90-compression, but the lower-compression balls don't have to be hit as hard to get the same distance. Most brands that are labeled as ladies' balls are 80-compression, so be sure to check the labels."
If you're concerned with the cost of getting properly equipped, here's where you can save some money. While there are a lot of ladies' balls on the market, there is really not one that's a whole lot better than another–so buy the bargain. Offering special prices on balls is a common marketing practice to lure customers into pro shops and sporting goods departments where higher-profit-margin items are attractively displayed.
If you keep an eye out for these kinds of specials, you can pick up a dozen golf balls for around $12 to $15, so take advantage of them. Besides, beginning golfers will lose a lot of balls to water hazards and wooded rough.